I'm a little bit reluctant to share my number 1 Friday Favorite because its that good, and I want it all to myself! Yesterday I was just cruising the aisles of Target (which looked like the day after Christmas with all the Missoni stuff gone), when I stumbled upon this pumpkin spice cookie mix from Betty Crocker. This was literally the BEST cookie I've ever eaten. It suggested you add cream cheese frosting to the cookie after baking, how could I go against the great Betty? So seriously if you stumble upon this mix, buy like 6 bags
(but leave some for me),
you will be addicted!

This wreath is so fun! It looks like a witch ran into the door. Here is the tutorial from Lemon Tree Creations! For the legs it'd be really cute if you made it look like the wicked witch with black and white stripe tights and red slippers!
How cute is this beverage bucket? It would be perfect for serving drinks at a party,
o
r bobbing for apples! I need to invest in a vinyl machine...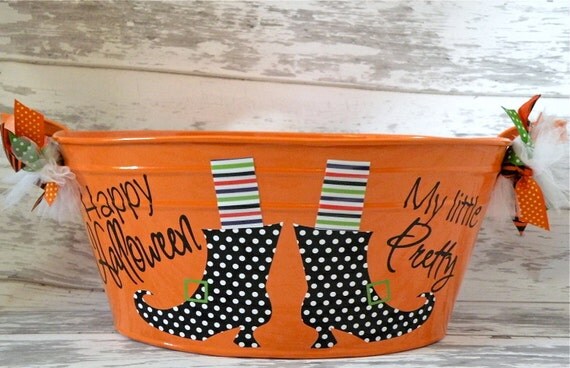 The weather here is getting cool. It has me thinking towards my fall clothes, I'm especially loving shoes and big sweaters, but this outfit would be so cute for a dinner date or party! With the jacket at only $30.00 from Forever 21, how can you resist?!
I'm also loving riding boots. Tory knows her shoes!
Loving this ribbon wreath. I love the mix of the ribbon textures and colors. You can buy it on
etsy
or attempt your own. To get the tutorial on how to make it
click here
to see my tutorial from a while back. I made my own fall wreath last night! I hope to post pictures soon
!
Sheesh I had alot of Favorites today... its just that time of year~
Have a great weekend, and get started on your fall bucket lists!
I'll be stopping by Starbucks for my pumpkin spice latte sometime!